Property Sales Nationwide Buoyant
The national statistics for all of Spain are again positive news for the ongoing recovery of the property market. In July, 169,683 properties were registered at land registry, 14.5% up on the same month of 2017.
Of these the number of property conveyances was 89,092, which is an annual increase of 13.5%.
Sales registered at Land Registry
The breakdown of rural and urban properties shows a high percentage of urban property sales in July of 87.8% and 12.2% for rustic properties. Among urban properties, 58.7% were housing sales.
In July, the number of rustic property sales was up by 8.3% year on year, while that of urban properties rose by 14.3%. This was an annual increase of 16.2% for urban property.
Council Owned and Private Property
In July, 90.5% of the dwellings transferred by sale were free-market dwellings and 9.5% had protected affordable housing status. In annual terms, both the number of free-market dwellings transferred by sale and that of protected dwellings increased by 16.2%.
New and Resale Properties
In July, 16.9% of the dwellings transferred by sale were new and 83.1% were used. The number of transactions on new dwellings increased by 11.4%, while that on used
dwellings increased 17.2% as compared with July 2017.
Figures for Andalusia July 2018
There were 27,743 property transfers recorded in the land registries for July 2018 and of these, 8,730 were free market sales. In percentages, this shows an increase year on year of 20.4%. This equates in Andalusia to 132 transfers per 100.000 inhabitants for sales. And 421 per 100,000 for transfer of title as a result of inheritance, free market sales, and other changes in property title. Andalusia came just a little above the national average, significantly below Aragón (32%) but only 6 – 7 percentage points lower than the next top performers Galicia (28.6%) and Castilla–La Mancha (27.1%).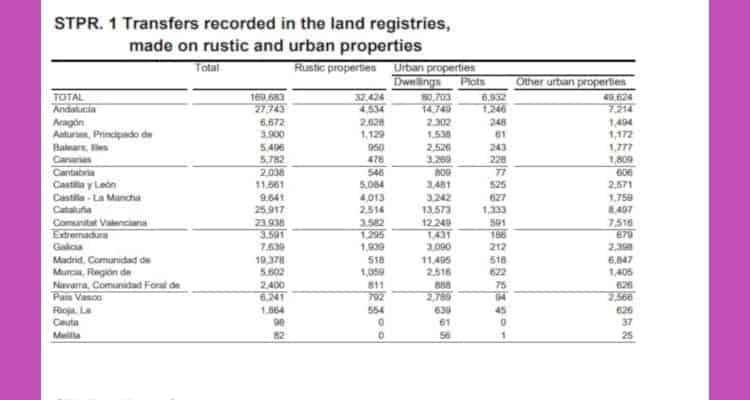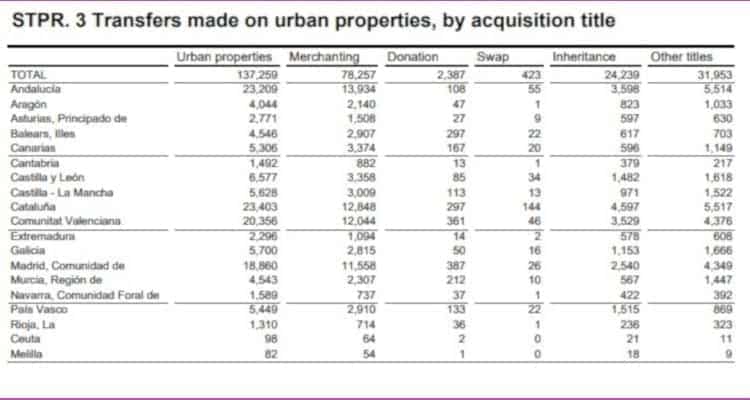 The figures for June 2018 are available here:
Source INE