Non Hotel Tourist Accommodation in Spain
These statistics show the supply and demand for holiday accommodation in June 2018 both nationwide and in Andalusia. More than 12.2 million overnight stays are great news for property owners interested in short term lets. This is slightly down on last year, but still shows strong demand.
Broad Stroke Figures Nationwide
The national statistics for overnight stays in non-hotel tourist accommodation are down by 3.8% in June compared to the same month of 2017. Yet, even so, numbers exceeded 12.2 million in June 2018
Figures may be marginally lower for several reasons including staff strikes at airlines and the heat wave which is affecting many countries this year.
Tourist apartments
Overnight stays in tourist apartments decreased by 8.1% in June. Those of residents decreased by 5.2% and those of non-residents by 9.0%. The average stay was reduced by 4.8% compared to June 2017, standing at 5.3 overnight stays per traveler. In June, 37.9% of the places offered by the tourist apartments were occupied, 7.1% less than in the same month of 2017. The occupancy rate by beds on weekends stood at 41.2% , with a decrease of 5.8%.
Touristic Apartments – INE Spain and Andalusia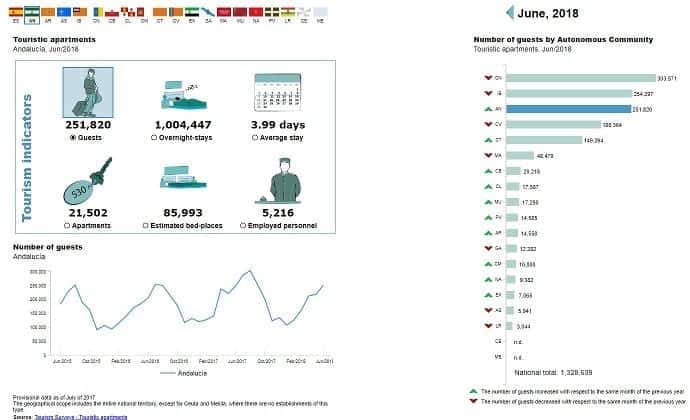 Resident and Non Resident Overnight Stays
These figures are further broken down into Resident and Non resident occupancy of accommodation.
Overnight stays of residents decreased by 0.3 % and non-residents 6.0%. The average stay is 4.3 overnight stays per traveler. During the first quarter of 2018, overnight stays decreased by 2.9% with respect to the same period in the previous year.
Visitors to Andalusia – both Residents in Spain and Non Residents in Spain showed healthy figures in June 2018, up year on year to those of 2017. 2018 has been a success for many owners who offer short term lets.
It goes without saying that our advice when buying a property is to also take into account the short term holiday market and depending on where you buy your investment property, also consider the business community who make overnight stays for business purposes.
Rural Tourism Inland Andalusia
Statistically, the Spanish National Statistics Institute looks at 2 categories that affect ordinary small investors: Tourist Accommodation which is coastal usually – for example Sotogrande, and the rural sector, such as Jimena de la Frontera.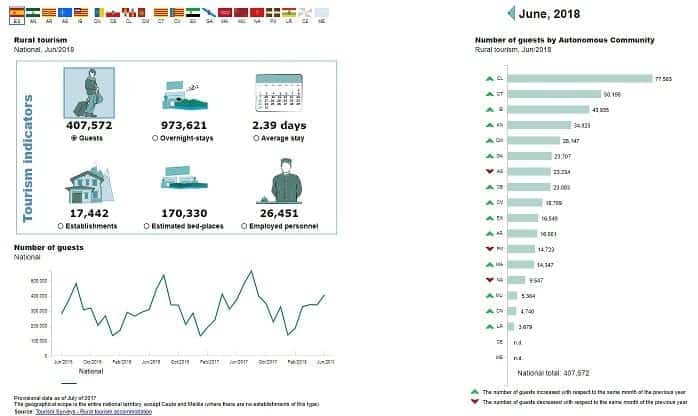 Contact us to buy or sell properties. We also offer long term lets for rental.