Demand for Accommodation in Andalusia
Both Residents and non-residents alike enjoy coming to Andalusia with its rich diversity and sunny weather. Be it hotels or privately owned properties in Coastal or Rural areas, statistics from the Spanish Statistics Institute, (INE), show Andalusia is popular all year round.
As you can see from the infographics for February 2018, visits to Andalusia from abroad were up on the same time last year, at 11.08 days. 582,686 tourists spent an average 1,140 euros over their stay.
Profitability of the Hotel Sector
Andalusia has an annual growth rate for the hotel sector of 3.99% compared to 5.44% annually, according to data released in Feb 2018 by the INE. The average daily rack rate is calculated at 65.83 euros, with revenue per room availability at 35.07 euros. This is up by 1.64%. Of this, the highest growth has been in one-star Hotels, (10.74%) and one-star Guesthouses (12.17%). It seems people want to stay longer and for less money. This indicates good returns in under exploited markets such as rural properties inland.
Profitability of the Tourist Apartment Sector
As the infographic illustrates, there were 17,078 apartments, which is up compared year on year to the same month of 2017. As you'd expect the estimated figure for bed places was also up on last year at 65,941. The number of guests was down at 127,913 but the number of nights they were staying showed an increase at 4.2 days on average. Nationally, the largest number of non-resident visitors was the UK, followed by Germany.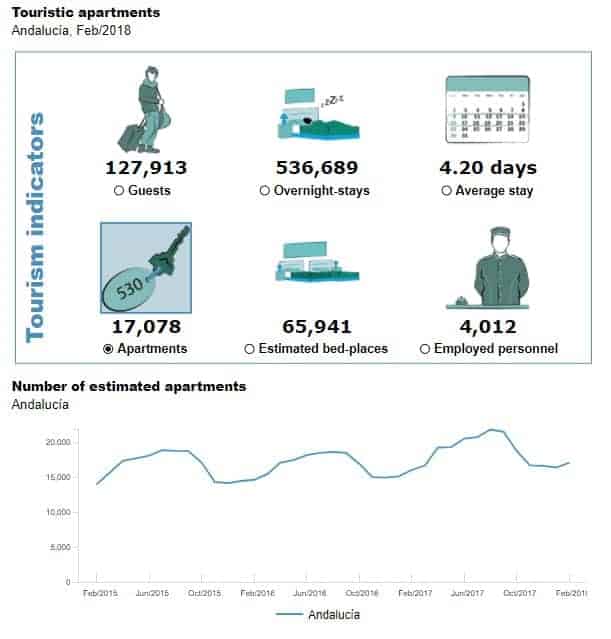 Rural Tourism Indicators in Andalusia
Rural Tourism figures were a little down on last year, with 16,377 guests staying on average 2.24 days. Estimated bed places and apartment availability was up. Average cost was 139.63 euros, or approx 33.25 euros per night. This offers very good returns in relation to the buying price of these properties.
It is a legal requirement for establishments to be registered with the Junta de Andalucia Tourism Department. This can be either as a full time business registered with Social Security payments and complying with disabled access requirements – Casa Rurales – or the more flexible category of rural accommodation – Viviendas Rurales –
Registration as Casa Rural means the person registered as owner or manager can offer touristic pursuits – guided tours, cookery classes, etc, whilst the Vivienda Rural can only offer accommodation, not activities as well. And only for a finite number of days, not all year round, unlike the Casa Rurales. Even so, this equates to being able to rent it out almost every weekend. Also, if you get a holiday-maker who wants to stay for longer, you can put them on a different letting contract and this lease does not count as part of the weeks per year.
There are some great rural properties out there, at prices below what they should be. There are also commercial outlets with accommodation that can be turned into very attractive propositions for the holiday maker market. Get in touch with us now and we can organise a no obligation tour of some of the rural areas and visits to various properties that are on the market at terrific value.
View Now!
Related » Property Listing »